This ShopPinkBlush rust floral plus maxi dress is amazing.  I know that was a long title/description for an article of clothing but one I felt was definitely necessary to portray every single detail.  From that long title you probably picked up on the fact that it came from a company called PinkBlush.  Pink Blush is actually a company that is known for their maternity wear but they also happen to dabble in providing a variety of items in both women's and women's plus.  So of course, as one that likes to try new companies and especially in ones that carry a plus size range, I decided to give them a try.
Now, I was hesitant towards trying out a maxi dress, I always am.  I never know if the length is going to work for my 5'11 frame.  This ShopPinkBlush Rust Floral Maxi Dress on the other hand, hits the floor and flows perfectly.  It's whimsical and beautiful and everything one should look in, in a maxi dress.  Also with fabric that stretches with easy and a sash the ties at the waist, it's truly the epitome of flattery.  I have used this phrase many times before, but it's absolutely true.  It lays on your body in all the right places.
I decided to break out this beauty and wear it this past Sunday, Easter Sunday.  I thought it was extremely appropriate to run around the poppy fields in.   How breathtaking are these flower fields?  I was so taken away and in awe.  So happy and in my element.
P.S. shop this dress by simply hovering/clicking on this first picture.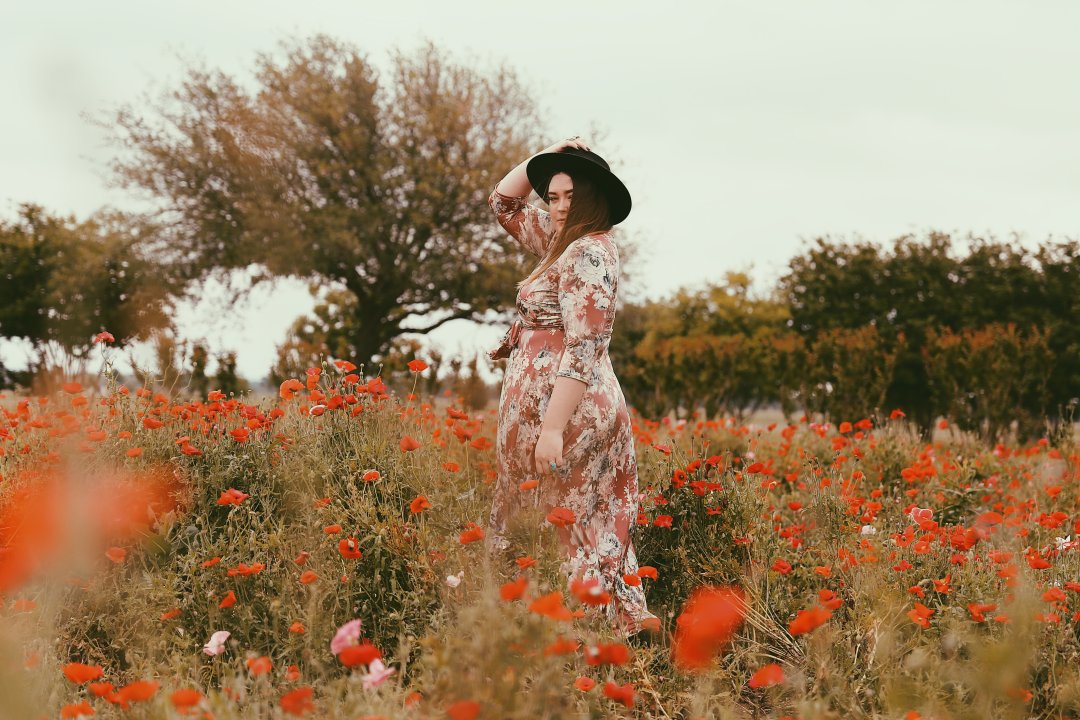 You all, this moment made my soul so joyful.  I will say she scared me half to death at first.  I honestly thought she was a snake and that's only because I was paranoid there were some hiding in those fields (I have a phobia).  But how sweet is she? All she wanted was to be petted and loved.  Which I am sure she gets a lot of, she lives on that property and is well taken care of.
Are you looking for a new maxi dress to try out?  Want to win a gift card to PinkBlush and hopefully add a new piece for summer into your wardrobe?  You are in luck!  I am hosting a Giveaway on my Instagram for one lucky person to win a $50 gift card to PinkBlush.  Click HERE and follow the rules to enter, Good Luck!
Much Love,
Vic
Shop My Hat